Service Areas
We cover all communities in north shore and greater Boston and most communities in central and western Massachusetts. We try to cover every other case within our coverage area. Areas outside our coverage area may be considered on case by case depending on type of care needed and staff availability.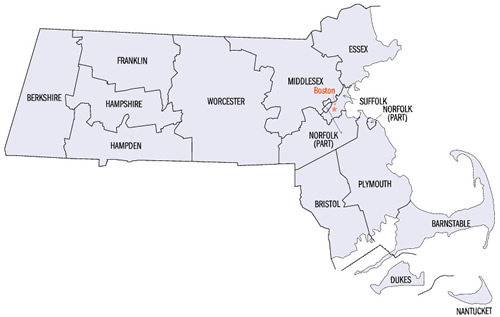 THE COUNTIES WE SERVICE ARE THE FOLLOWING:
(1)Towns in Essex County
Amesbury
Danvers
Groveland
Lawrence
Marblehead
Nahant
Peabody
Salisbury
Wenham

Andover
Essex
Hamilton
Lynn
Merrimac
Newbury
Rockport
Saugus
West Newbury
Beverly
Georgetown
Haverhill
Lynnfield
Methuen
Newburyport
Rowley
Swampscott

Boxford
Gloucester
Ipswich
Manchester
Middleton
North Andover
Salem
Topsfield

(2) Towns in Middlesex County
Acton
Ayer
Boxborough
Chelmsford
Everett
Hopkinton
Littleton
Maynard
Newton
Sherborn
Stow
Tyngsborough
Wayland
Winchester

Arlington
Bedford
Burlington
Concord
Framingham
Hudson
Lowell
Medford
North Reading
Shirley
Sudbury
Wakefield
Westford
Woburn

Ashby
Belmont
Cambridge
Dracut
Groton
Lexington
Malden
Melrose
Pepperell
Somerville
Tewksbury
Waltham
Weston

Ashland
Billerica
Carlisle
Dunstable
Holliston
Lincoln
Marlborough
Natick
Reading
Stoneham
Townsend
Watertown
Wilmington

(3)Towns in Norfolk County
Avon
Canton
Foxborough
Medway
Norfolk
Randolph
Wellesley

Bellingham
Cohasset
Franklin
Millis
Norwood
Sharon
Westwood

Braintree
Dedham
Holbrook
Milton
Plainville
Stoughton
Weymouth

Brookline
Dover
Medfield
Needham
Quincy
Walpole
Wrentham

(4)Towns in Suffolk County
| | | | |
| --- | --- | --- | --- |
| Boston | Chelsea | Revere | Winthrop |
(5)Towns in Worcester County
Ashburnham
Berlin
Brookfield
Dudley
Grafton
Hopedale
Leominster
Millbury
Northborough
Paxton
Royalston
Southbridge
Sutton
Warren
Westborough

Athol
Blackstone
Charlton
East Brookfield
Hardwick
Hubbardston
Lunenburg
Millville
Northbridge
Petersham
Rutland
Spencer
Templeton
Webster
Westminster

Auburn
Bolton
Clinton
Fitchburg
Harvard
Lancaster
Mendon
New Braintree
Oakham
Phillipston
Shrewsbury
Sterling
Upton
West Boylston
Winchendon

Barre
Boylston
Douglas
Gardner
Holden
Leicester
Milford
North Brookfield
Oxford
Princeton
Southborough
Sturbridge
Uxbridge
West Brookfield
Worcester


Below are the services that we are offering:


The best people and the best home care programs - we've got it! We go to lengths to make improvement measureable so we can continuously bring you the quality services you expect from
Vine Homecare & Staffing, Inc.
You can set an appointment with a case manager or a nurse from
Vine Homecare & Staffing, Inc.
We also welcome meeting requests from employers to discuss particulars of healthcare staffing and how we can be of service to your company.
Let's meet soon!
Below are the areas we are serving:
• Essex County
• Middlesex County
• Norfolk County
• Suffolk County
• Worcester County
View more »